The All-in-one Android Smartphone Management Tool
Moborobo allows you to manage your Android device from your PC with ease. You can backup/restore contacts, SMS and Apps; send/receive SMS from PC; download Apps, wallpapers & themes; sync multi-media files between Android device & PC. More over, you can t

ransfer contact data from Android to iPhone, and vice versa

.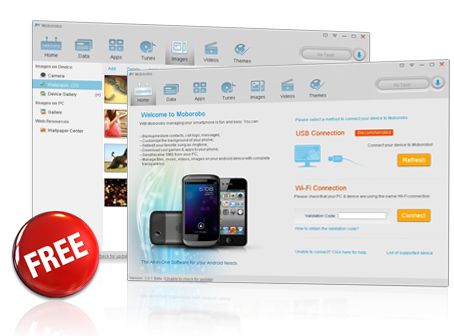 iOS
Brand Model
Apple iPhone
iPhone 3G
iPhone 3GS
iPhone 4
iPhone 4S
iPhone 5
itouch4
iPad1
iPad2
The New iPad
iPad mini
Android
Android (Android 4.0 Ice ***** Sandwich Supported)
Brand Model
Acer Acer A500 / Iconia Tab
Acer E110
Acer E310 / Liquid Mini
Acer E400
Acer Liquid A1 / S100
Acer Stream
Acer Liquid MT
ALCATEL ALCATEL OT 919
ALCATEL_one_touch_908M
ALCATEL_one_touch_927
Dell Dell 3iW
Dell Aero
Dell Mini3V
Dell Mini5 / Streak
Dell Venue
Dell V04B
Dell Venue Pro
Google Google Nexus One / G5
Google Nexus S
ASUS ASUS A10
ASUS A50
p320
p525
p526
p527
p535
p550
p750
ASUS M530W
ASUS M930
ASUS P552
ASUS P560
ASUS P565
ASUS P735
ASUS P835
Transformer Prime TF201
Transformer TF101
HP Hewlett-Packard iPaq HW6965
iPAQ 512
iPAQ 610c / 612c / 614c
iPAQ HW6910
iPaq HW6915
iPAQ rw6828
iPAQ rw6815
HP iPAQ 910c
HP iPAQ Data Messenger
HTC HTC Dream / G1
HTC Magic / G2
HTC Vision / T-Mobile G2
HTC Hero / G3
HTC Tattoo / G4
HTC Legend / G6
HTC Desire / G7
HTC Wildfire / G8
HTC Aria / G9
HTC Desire HD / G10
HTC Thunderbolt
HTC EVO 4G
HTC HD2 / Leo
HTC Desire Z
HTC Desire S
HTC Hero200
HTC Incredible
HTC Incredible S
HTC MyTouch 3G Slide
HTC MyTouch 4G
HTC T9189
HTC Wildfire S(A510e) / G13
HTC Sensation(Z710e) / G14
HTC Salsa(C510e) / G15
HTC Chacha / G16
HTC Incredible S(S710d)
HTC Sensation
HTC Sensation XL
HTC EVO 3D/G17)
HTC Sensation XE/G18
HTC S(Z510d)
HTC Raider 4G(x710e) / G19
HTC Rhyme(S510b) / G20
HTC One X(S720e) / G23
HTC S610d
HTC G19 Raider 4G(X710e)
HTC Flyer(P510E)
HTC T328d
HTC Inspire 4G
Advantage X7500
HTC Aria A6380
HTC Dream
HTC ELF0100 (P3450/P3452)
HTC Imagio XV6975
HTC P660
HTC Palm Treo 750
HTC S620 Excalibur
HTC S740
HTC Snap
HTC T-Mobile G1
HTC Touch 3G
HTC Touch Cruise
HTC Touch Cruise 09
HTC Touch Diamond P3700
HTC Touch Diamond2
HTC Touch HD2 (T8585)
HTC Touch Pro
HTC Touch Pro2
HTC Touch Viva
HTC TyTN II (P4550/Kaiser)
Juno
M700
My Touch 4G
NIKI100 (P5500/P5520)
p3300
P3450 Touch
P3650 Touch Cruise
P4350
P4550 TyTN II
P6300
Qtek 9090
Qtek S300
Raider x710e
Rhyme S510b
S510e(Desire S)
S730 Wings
Touch 3G
Touch Cruise (Polaris / P3651)
Touch Cruise (Polaris 100) Dopod P860
Touch Diamond (P3700)
Touch Diamond (P3702)
Touch HD (T8282)
Touch Viva T2223
T9199+
T9399
T9599|T9599+
Eris
EVO 4G+
EVO_HD
HD2
HD7
Hero
Liberty
LTE 4G
Marvel
S610e
ADR6300
ADR6350
ADR6400L
B63M
Z715e
A310e
A510c
A510e
A6390
A810e
A9188
Amaze 4G|Amaze 4G(Ruby)
Bee
click
Desire CDMA
Droid Incredible
EVO Design 3G
Flyer P510e
Glacier
Gratia A6380
HD mini
HD2 T8585
Hero S
Rhyme S510a|Rhyme S510b
S715e
T5353
T7373
T9298
T9299
T9299+ For AT&T
T9399
T9399+ For AT&T
T9598+ For Vodafone
T9698+ For T-Mobile
T9699+ For AT&T
T9899+ For AT&T
Velocity 4G X710s
X315e(G21)
X515d|X515m
Z710t
HTC_Amaze_4G(G22)
Huawei Huawei C8500
Huawei C8600
Huawei C8650+
Huawei C8800
Huawei C8810
Huawei C8850
Huawei C8860E
Huawei S7
Huawei T8300
Huawei U8100
Huawei U8110
Huawei U8120
Huawei U8150 / Ideos
Huawei U8220
Huawei U8500
Huawei U8800 / Ideos X5
Huawei U8860
Huawei S8600
Huawei MediaPad
HuaweiPulse
C8850
T8300
U8850
HUAWEI S8520
HUAWEI T8100
HUAWEI T8500
Huawei U8120
HUAWEI-U9000
Ideos
IDEOS S7
IDEOS S7 Slim
IDEOS X5
T710
U8520
U8650
U8812D
S8600
i-mobile i-mobile I858
i-Mobile 504
i-mate JAMA
i-Mate JAM
i-mate Ultimate 8502
JAQ3
PDAG
PDAL
SP3
SP5
spl
LG
LG GT540
LG GW620
LG GW880
LG KH5200
LG P350
LG P503
LG P920
LG C660 / Optimus Pro
LG P970
LG P990 / Optimus 2X
LG E510
LG E730
LG-E720
LG-KH5200
LG-LU6200
LG-P355
LG-P500
LG-P690
LG-P693
LG-P930
LG-P940
LG-P993
LG-P999
LG-SU370
LG-SU640f
LG-SU660
LG-SU760
GT-i9100
KS20
LG CT810 Incite
LG GW620
LG KT878
LG KU990 Viewty
Optimus 2x
OPTIMUS PRO(C660)
P920
L-07C
C-C550
Motorola MOTO A1680
MOTO CLIQ
MOTO DEXT
MOTO Droid / Sholes
MOTO Droid X / ME811
DROID Pro
DROID X|DROID X2
DROID2|DROID2 GLOBAL
DROID2 GLOBAL
MOTO tatoo (G4)
MOTO MB200
MOTO MB300
MOTO MB525
MOTO MB810
MOTO MB855
MOTO MB860 / Atrix 4G
MOTO MB865
MOTO ME501 / Quench
MOTO ME511
MOTO ME525 / Defy
MOTO ME600
MOTO ME722
MOTO MileStone
MOTO Milestone 2
MOTO Morrison
MOTO MT620
MOTO MT710
MOTO MT716
MOTO MT720
MOTO MT810
MOTO MT870
MOTO XOOM
MOTO XT300
MOTO XT301
MOTO XT316
MOTO XT500
MOTO XT502
MOTO XT615
MOTO XT681
MOTO XT701
MOTO XT702
MOTO XT711
MOTO XT720
MOTO XT800
MOTO XT800+
MOTO XT800w
MOTO XT806
MOTO XT822
MOTO XT883
MOTO XT910 / Droid Razr
MOTO XT912
XT531
XT882
L7|L7i SLVR
Moto ME511
Q8
Q9
F3 MOTOFONE
Motorola A3100
Motorola C168
Motorola L7 SLVR
Motorola L7i SLVR
Motorola MC3-41E12
Motorola MC35
Motorola V235
Motorola V3 RAZR
MPx200
K1
MotoA953
motorola CLIQ
Motorola MB855
Motorola-XT500
Motorola-XT502
MT620
MT716
MT810
MT810lx
MT870
MT917
MZ606
photon
A953
V9
XT319
XT532
XT702
XT928
Z3
NEC NEC909e
NEC-101S
NEC-101T
NEC808w
Orange Orange Boston
Pantech Pantech C810
Philips Philips W626
S508EG
Samsung Samsung Galaxy K / SHW-M130K
Samsung Galaxy U / SHW-M130L
Samsung Fascinate / I500
Samsung i5508
Samsung i5700 / Spica
Samsung i5801 / Galaxy 3
Samsung i6500U
Samsung i7500
Samsung i7680
Samsung i779
Samsung i8000
Samsung i8320
Samsung i897 / Captivate
Samsung i899
Samsung i9000 / Galaxy S
Samsung i9003 / Galaxy SL
Samsung i9008
Samsung i9020 / i9023 / Google Nexus S
Samsung i9088
Samsung i909
Samsung i9100
Samsung i9220
Samsung i9300
Samsung M190S
Samsung M220L / Galaxy Neo
Samsung m900
Samsung P1000 / Galaxy Tab
Samsung S5570 / Galaxy Mini
Samsung S5630
Samsung S5660 / Galaxy Gio
Samsung S5670 / Galaxy Fit
Samsung S5830 / Galaxy Ace
Samsung SCH-i909
Samsung T939
Samsung T959
Samsung W899
Galaxy S II HD LTE
GT-I9103
GT-I9108
GT-S5360
GT540
GT-7000
GT-B5510
GT-I5500
GT-I5508
GT-I5801
GT-I6500U
GT-I8150
GT-I8320
GT-I9001
GT-I9008
GT-I9008L
GT-I9018
GT-I9088
GT-I9108
GT-I9228
GT-I9250_EUR_XX
GT-N7000
GT-P1000
GT-P1010
GT-P6200
GT-P6200L
GT-P6800
GT-P6810
GT-P7300
GT-P7310
GT-P7500
GT-P7510
GT-S5368
GT-S5578
GT-S5670
GT-S5690
GT-S5820
GT-S5830i
GT-S5838
GT-S6102
GT-S7500
i600
i617 Blackjack II
i640
i780
SGH-G800
SGH-i320
SGH-i600 / i608
SGH-i607
SGH-i617 BlackJack II
SGH-i640
SGH-i780
SGH-i900 Omnia
SG-i617 Blackjack II
Samsumg SGH-i780 BizBee / i907 Epix
Samsung B7320 OmniaPRO
Samsung Omnia B7610
Samsung SGH-A308
Samsung SGH-D820
Samsung SGH-E330
Samsung SGH-E700
Samsung SGH-G800
Samsung SGH-i200
Samsung SGH-i616 Jack / SGH-i617 Blackjack II
Samsung SGH-i620
Samsung SGH-i688
Samsung SGH-i718
Samsung SGH-i900 / i908 Omnia
Samsung SGH-i900 Omnia
Samsung SGH-T509 / T519
Samsung SGH-U600 / U608
Samsung SGH-U700
Samsung SGH-X510
SGH-I997
SGH-T759
SGH-T989
SH8158U
SH8188U
SH8268U
SH8288U
SHV-E110S
SHV-E120K|E120L|E120S
SHV-E160L|E160S
SHW-M100S
SHW-M110S
SHW-M130K
SHW-M180S
SHW-M190S
SHW-M250K|M250L
SCH-I400
SCH-I500
SCH-i509
SCH-i559
SCH-i569
SCH-i579
SCH-i589
SCH-i809
SCH-i889
SCH-i899
SCH-i919
SCH-i929
SCH-W899
SCH-W999
Nexus S 4G
SAMSUNG-SGH-I717
SAMSUNG-SGH-I897
SAMSUNG-SGH-I997
SAMSUNG-SGH-I997R
YP-G1
YP-G70
Sharp SH7218U
SH8298U
SH8118U
SH8188U
SHARP-ADS1
Sony Ericsson Sony Ericsson Xperia SO-01B
Sony Ericsson A8i
Sony Ericsson E15i
Sony Ericsson LT15i / Xperia Arc
Sony Ericsson MT15i / Xperia Neo
Sony Ericsson U20i / X10i Mini Pro
Sony Ericsson X10a
Sony Ericsson X10i
Sony Ericsson X10 Mini
Sony Ericsson X10 Mini Pro
Sony Ericsson X8
Sony Ericsson z1i / Xperia Play
Sony Ericsson LT18i
Sony Ericsson R800i
Sony Ericsson ST18i / Xperia Ray
u20i
WT19i
E10i
T2
T-52
MK16i
A8i
A90
Sony LT26i
SK SK S150
SK S170
SKY IM-A690S
IM-A710K
IM-A720L
IM-A760S
IM-A770K
IM-A800S
IM-A820L
Vodafone Vodafone 845
Vodafone 858
ZTE ZTE N600
ZTE N600+
ZTE R750\R750+
ZTE V880
ZTE V9
ZTE VF945
ZTE X850
ZTE X876
ZTE X920
ZTE U880
ZTE N760
ZTE N960
ZTE-BLADE
ZTE-C N606
ZTE-C N700
ZTE-C N760
ZTE-C N880
ZTE-C X500
ZTE-SKATE
ZTE-T U802
ZTE-T U812
ZTE-T U960
ZTE-T U960s
ZTE-U X850
ZTE-U X876
V852
ZTE-U V880
ZTE-U V960
V852
Light Tab 2
N700
N880S
raise|X876
Latest Version: V2.0.7.501
Software Size: 17.7MB
Last Updated: Oct. 22nd
Operating System: Windows XP/Vista/7/8

Downloads